Best Bondage Collars and Leads
A bondage collar is a device that is worn around the neck of a person to indicate that they are the submissive or have 'slave' status within a BDSM relationship. The person who wears the collar in the relationship is said to be 'collared'. Collaring itself is very popular within the BDSM and Fetish community, and there is often a collaring ceremony which effectively represents a full commitment to the dominant in the relationship.
There are many different designs off collars available, some thin, which are great for fetish events and parties, and some thicker, which are designed for long term wear, and harder bondage play sessions. Collars usually feature an O-Ring or a D-Ring that allows for multiple BDSM accessories to be attached to it, including a leash. Collars and leads can be used in a variety of different role play games that often have connotations of control and pet like play.
Below are out best bondage collars and leads based on what our customers have bought globally.
This beautiful Bound Choker is made from the highest quality nubuck leather. The inside of this bondage collar is padded and features a smooth leather finish so does not rub against the skin. The padded collar makes it great for wearing for a longer period of time. The choker has a thinner appearance when compared with a lot of other bondage collars. This is because it is designed as a fetish clothing accessory as well as a piece of bondage equipment. At the front of the choker there is a O Ring meaning that you can attach other bondage accessories to it like nipple clamps or a leash. The choker styled collar also features a pad-lockable buckle to ensure your sub won't be able to escape!
The Bound to Please Silicone Collar and Lead Set is an extremely affordable and high quality piece of bondage gear that feels extremely soft and smooth on the skin. This velvety smooth silicone collar features a D Ring on the front, allowing for the lead to be attached. It also allows for other bondage accessories to be attached like nipple clamps. This collar also features a pad-lockable buckle for additional security. Because this collar is made from extremely high quality silicone it is perfect for vegans and vegetarians, or simply those who have an aversion to leather.
This Bound Bondage Collar is a bigger version compared to the Bound Choker. This Bondage collar is designed more for longer BDSM sessions. This bondage collar is definitely not for the beginner! It features three D Rings that have the spectacular brass finish. You can use the D Rings for bondage accessories, or a lead. The collar has a brown nubuck leather finish on the front, and a smooth soft leather interior making it comfortable for longer BDSM sessions. The collar is also padded making it even more comfortable. Finally, the bondage collar features a pad-lockable buckle prong for even more security.
This Bound Nubuck Leather Leash looks and feels like a high end piece of bondage gear. The handle features a 360 degree rotatable swivel for extreme comfort for the holder. The leash also has a quick release trigger clip for both safety and variation. This lead fits all the bondage collars that we sell and is a great add to purchase for the Bound Nubuck Leather Collar and the Choker, as it has the brass metal finish, as well as the brown leather handle.
You can buy this high quality leash, and the whole Bound Bondage Range today from the official online Loving Joy Adult Toys Store.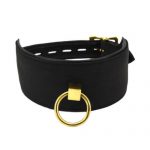 This Bondage Collar is one of a kind and an extremely beautiful collar that features a strong and incredibly sturdy O ring on the front that has the beautiful brass finish that the Bound admirers have come to love! The black collars exterior is made from high quality nubuck leather, whereas the inside is padded and made from smooth, soft leather, making it more comfortable for longer BDSM sessions. The elegant design of this collar also makes it a great fetish clothing accessory. The back of the collar also has a pad-lockable buckle prong for extra safety and security.
The Bound Noir Leather Leash looks truly exquisite. This stylish and elegant looking leash features a full leather leash with a double trigger hook that can be easily attached to a bondage collars D or O Rings.
You can buy this high quality leather leash today from the official Loving Joy Adult toys store.
If you have any more questions about the best bondage collars then please feel free to get in touch with us and one of our bondage gear experts will get back in touch as soon as possible.