Award-winning adult sex toy manufacturer, Loving Joy is expanding its exquisite nubuck leather bondage range, Bound Noir after just 6 months of launching the black and brass line of restraints and impact toys.
After the Europe-wide success of Loving Joy's original high-end bondage brand, Bound, the adult toy brand has really expanded its offering for fetish retailers with the Impound male chastity devices and the Bound to Please silicone bondage range both catering to a more advanced, hard-core audience. However, when it came to the release of Bound's sister-brand, Bound Noir, the product selection was intentionally geared towards a more novice user who will appreciate the elegance of the black nubuck leather, the luxurious look of the brass metal details and thinner, more delicate restraints.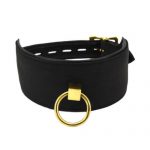 The Bound Noir range already includes a slim choker with a big, brass O-ring on its front, but now the line is expanded with a thicker, padlockable collar that features a small brass block with a 180-degree O-ring that lends the item a stylish, distinct look.
This was one a "love at first sight" product that arrived as a sample to our office, and within minutes of opening it we knew we wanted to add it to the Bound Noir brand – said Sebastian
Gonzalez, Loving Joy's CEO. We've been enjoying selecting items to the Noir collection as we want the range to stand on its own, not just as an extension of the original, brown-brass Bound, but as a fully-fledged line that can cover all our retailers' and consumers' bondage equipment needs. We found out that people tend to use the original Noir choker as an accessory for the scene, but we wanted a collar that will perform equally well in the bedroom/dungeon too.
This padded, nubuck leather bondage collar also has a padlockable buckle system – a feature that was already a welcome addition to our
Bound items and so I'm sure that consumers will love it on this restraint too. Gonzalez continued – The Noir range was instantly successful with our customers as they were seeking a kind of "updated classic" range that is elegant yet affordable, distinctive but familiar. Now, with the release of this collar – that will, of course, come with the same excellent margins that everyone came to expect from our high quality in-house brands by now – we really hope to add a sophisticated edge to the already comprehensive Bound Noir bondage range.
The Bound Noir Nubuck Leather Collar with O-Ring is available to buy from the official Loving Joy Bondage Gear Store today! If you would like to stock this product then contact us today and a member of our team will be in contact as soon as possible.